Please click the "…" buttonSelect "browser" to open
Shanghai (Gasgoo)- SVOLT Energy Technology Co., Ltd. ("SVOLT"), the Chinese battery supplier carved out of Great Wall Motor ("GWM"), is boosting its presence in both the domestic and overseas markets.
In the ranking of battery installation for global electric vehicles (including BEV, PHEV, and HEVs) sold from January to April 2022, SVOLT ranked tenth with an installed capacity of 1.6GWh, representing a 138.8% year-on-year surge, according to the data by market research company SNE Research.
In China, SVOLT recorded a power battery installed capacity of 2.01GWh in the first five months of this year, following CATL, BYD, CALB, and Gotion High-Tech, according to the China Automotive Power Battery Industry Innovation Alliance (CAPBIIA).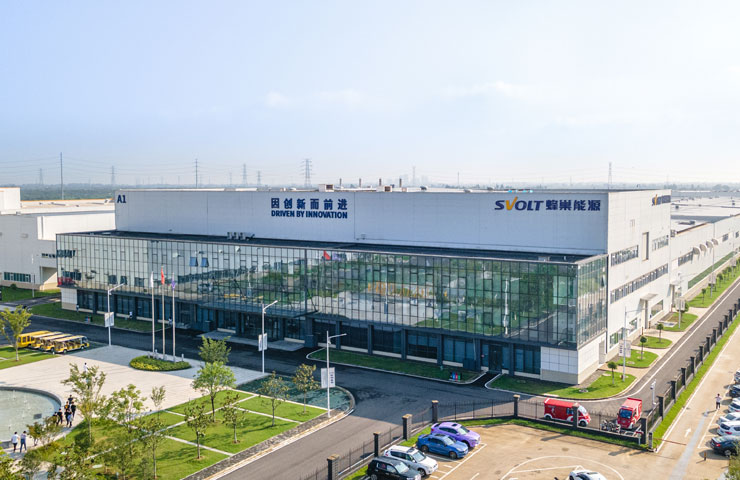 Photo credit: SVOLT
SVOLT is well-known for its tight bond with Great Wall Motor ("GWM"). The Baoding-headquartered automaker started pre-research of battery cells as far back as 2012 and built a power battery business unit in December 2016, which was the predecessor of SVOLT.
SVOLT was formally incorporated as a wholly-owned subsidiary of GWM in February 2018, and officially spun off from the automaker only 8 months later. On October 26, 2018, GWM signed an agreement to transfer 100% of the equity interest in SVOLT to Baoding Ruimao at a consideration of 790 million yuan ($117.679 million), signifying its resolution to boost market-based operation for the battery arm.
Currently, Baoding Ruiman is still the biggest shareholder of SVOLT despite several times of investor introduction.
However, the equity structure can easily indicate the close relationship between SVOLT and GWM. According to the data from Chinese corporate information provider Tianyancha, Baoding Ruimao is a wholly-owned subsidiary of Great Wall Holdings, whose majority shareholder is Wei Jianjun, chairman of GWM.


In addition, the intimate connection is also reflected by SVOLT's client base. The battery maker has formed cooperation with Geely, Dongfeng Motor, HOZON Auto, and Leapmotor on battery supply, and is developing clients in European markets. Nevertheless, GWM still accounted for the majority of SVOLT's total supply volume. According to the data from Gaogong Industry Research Institute (GGII), the battery maker recorded a power battery installed capacity of around 2.366GWh in 2021, 95% of which were offered to GWM.
Production capacity
SVOLT is ambitious to raise its total annual power battery production capacity to 600GWh by 2025. This is one of the main targets set for its SV "600" Strategy.
As of now, SVOLT has deployed battery manufacturing bases in nine cities of China, namely, Baoding of Hebei province, Suining and Chengdu of Sichuan province, Huzhou of Zhejiang province, Ma'anshan of Anhui province, Shangrao of Jiangxi province, and Taizhou, Nanjing and Yancheng of Jiangsu province.
As for the overseas business deployment, SVOLT is building a production site in Germany. According to an announcement it released in November 2020, a battery module and pack factory as well as a battery cell factory with an annual production capacity of 24GWh would be built at two Saarland locations. Production at the battery module and pack plant was set to begin in mid-2022 at the earliest, while the battery cell factory was expected to start operation at the end of 2023.
R&D footprint
While speeding up production capacity expansion, SVOLT is also stepping up its R&D efforts.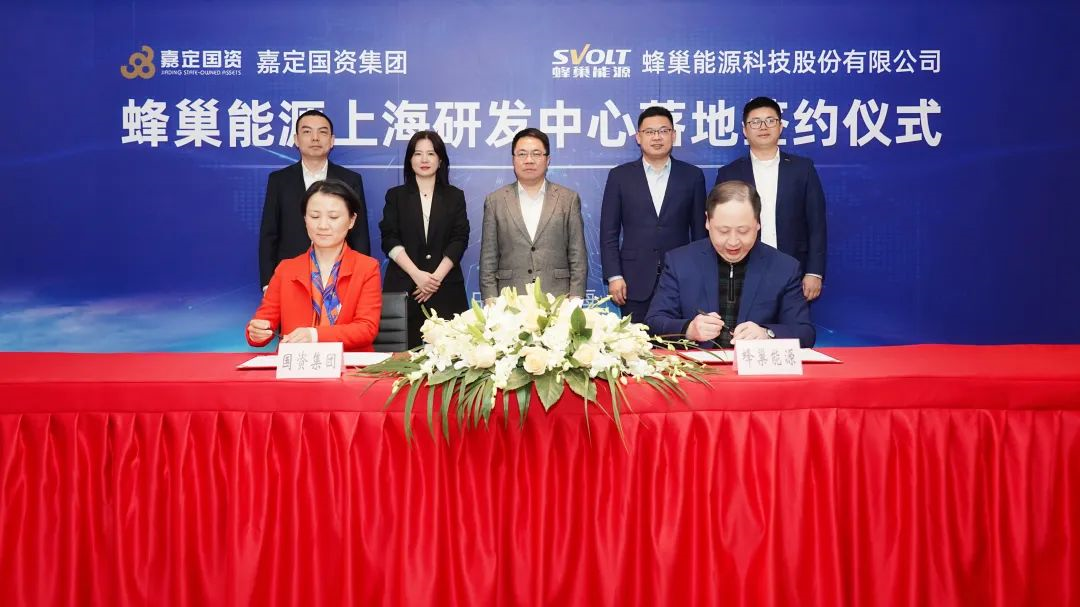 Signing ceremony for SVOLT's Shanghai R&D center
SVOLT announced on Jan. 6 the launch of its Shanghai-based R&D center, whose construction will be assisted by Shanghai Jiading District State-Owned Assets Operation Group Co. Ltd., a state-run company owned by the government of Shanghai's Jiading District.
The new R&D center will operate under an entity named "Zhangyu Boshi (meaning "Doctor Octopus") Intelligent Technology (Shanghai) Co., Ltd. According to SVOLT, the new facility would offer technical support to the R&D of BMS (battery management system)-related software & hardware, industrial software, controllers for intelligent devices, AI algorithm, and integration design for lighthouse factories.
Besides, the Shanghai-based R&D hub would also work as an investment platform for entrepreneurship, offering interest-free loans, equipment leasing, rent-free workplaces, and other services to eligible startup projects.
Aside from the Shanghai-based one, SVOLT has started operation of its R&D hubs in Baoding, Wuxi, Shenzhen of China, and South Korea and India. In the U.S., Europe and Japan, the company also has R&D facilities under construction.
SVOLT currently has over 3,000 employees worldwide for the R&D business alone and has so far registered over 3,800 patents.
Battery technology innovation
SVOLT is the first company to bring cobalt-free high nickel cell chemistry to volume production.
At the Chengdu Motor Show kicking off in August last year, SVOLT unveiled the world's first cobalt-free battery which later had been put into series production and been assembled in GWM's ORA Cherry Cat.


SVOLT's cobalt-free battery pack; photo credit: SVOLT
According to Yang Hongxin, chairman and CEO of SVOLT, the company's cobalt-free pack assembled in vehicles adopts standard platform MEB modules and aerospace-grade thermal insulation materials. The pack can reach a total of 82.5KWh of electricity, energy density of 170Wh/kg, and a range of more than 600 kilometers under normal temperature conditions. It also features solid performance including 0-100 km/h acceleration within 5 seconds, IP67 waterproof rating, high energy retention, and fast heating speed at low temperatures.
To grasp the core technologies of cobalt-free battery, SVOLT had invested more than 500 million yuan ($74.785 million) in R&D funding, more than 1,200 R&D personnel, and 120 materials and battery experts, said Yang Hongxin. It expects the technology to help the industry alleviate the long-term dependence on cobalt resources, which might face the supply shortage amid the fast growth of EV demands.
SVOLT has also formed a team that works on the R&D of solid-state battery technology. It joined hands with Ningbo Institute of Materials Technology & Engineering, CAS and co-launched a solid-state battery technology R&D center in Wuxi city in April 2021.
Additionally, the battery maker has developed a series of "short blade" battery products to further improve batteries' energy density and lower manufacturing costs.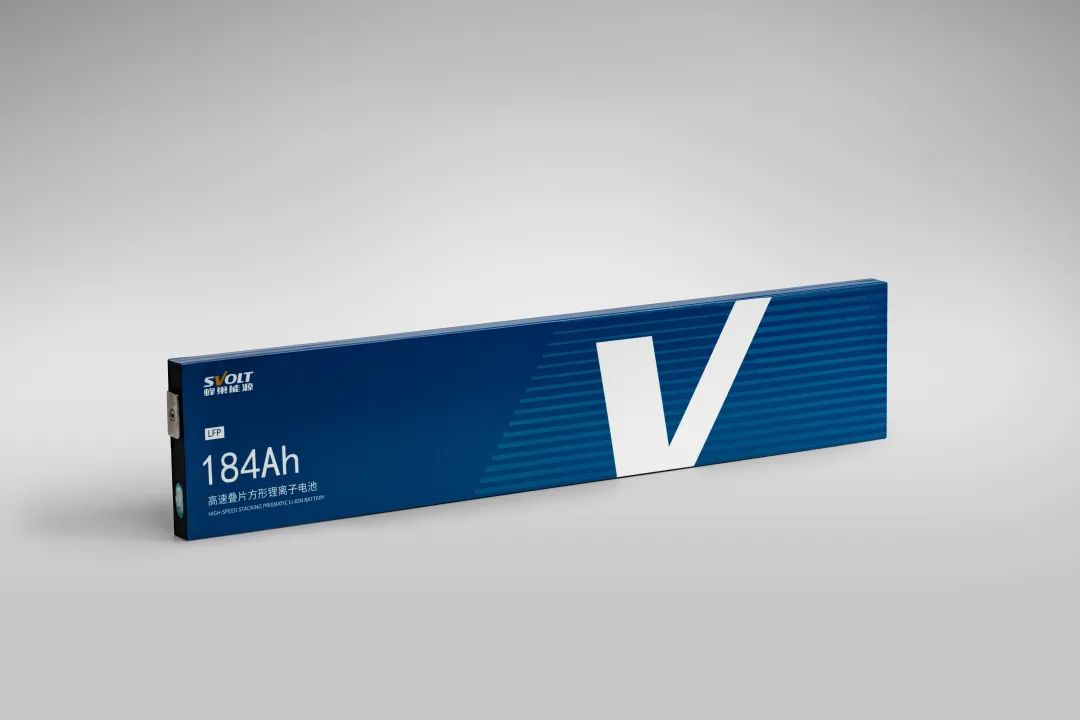 SVOLT's L600 "short blade" battery; photo credit: SVOLT
On the Annual SVOLT Battery Day held last December, SVOLT launched a new short blade product category for extensive electrification applications. The newly-launched cells contain a full range of sizes from L300 to L600, covering the whole charging range from 1.6-4C and can be used in different application scenarios such as L600 and L300 for passenger battery electric vehicles, L400 for passenger hybrid electric vehicles, L500 for both energy storage and commercial vehicles, and both the L300 and L400 for off-highway, lower speed EVs.
In the production of the short blade batteries, SVOLT utilizes its in-house developed high-speed stacking technology to break the bottleneck of winding processes of batteries. Notably, it has developed the next-generation ultra-high-speed blade cell electrode forming equipment that can finish stacking one cell in only 0.125 seconds.
Layouts in supply chain of upstream battery materials
SVOLT is moving upstream in the supply chain to secure critical battery materials.
On June 10 this year, the company inked an agreement with Dazhou municipal government and the Management Committee of Dazhou High-tech Industry Development Zone to build its first zero-carbon lithium battery industry park, which will have production lines for lithium iron phosphate and cobalt-free cathode materials, lithium iron phosphate precursors, electrolyte, as well as battery disassembly lines, and other supporting facilities.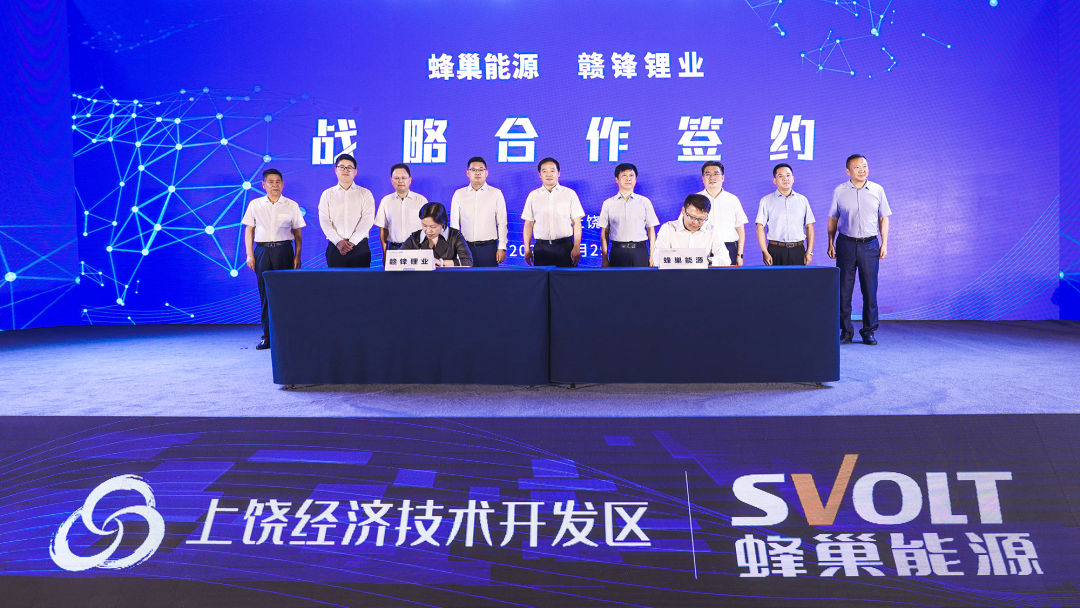 SVOLT, Ganfeng Lithium signing agreement; photo credit: SVOLT
The other signing ceremonies held in June were to build a lithium salt joint venture with EVE Energy and Sichuan New Energy Power Company Limited, co-work with SDIC Xinjiang Luobupo Potash Co., Ltd. to guarantee lithium resource supply, agree to purchase lithium-battery and carbon-coated aluminum foil from Five Star Aluminum, and cooperate with Ganfeng Lithium on lithium salt supply and battery recycling.
What's more, on October 25, 2021, SVOLT and BASF entered into an agreement in which both parties would team up on their global operations regarding cathode active materials development, raw materials supply, and battery recycling for SVOLT's battery cells.
SVOLT also partnered with BASF's subsidiary, BASF Shanshan, by inking a deal on March 30 this year for the strategic investment in Hunan Yongshan Lithium Co., Ltd. ("Hunan Yongshan"), an affiliate company of the Chinese lithium battery materials supplier Ningbo Shanshan.
In the meantime, SVOLT penned a framework agreement with Hunan Yongshan to further secure the supply of lithium salt.
Financing progress
To shore up the vigorous push in production capacity expansion, R&D, and supply chain deployment, SVOLT has so far closed 7 rounds of financing.
According to the corporate information provider Tianyancha, the latest funding round was completed in mid-January 2022. This was a strategic round that increased the SVOLT's valuation to nearly 46 billion yuan ($6.876 billion).
In 2021, the company closed the A, B, B+ funding rounds, which bagged a total of 19.78 billion yuan ($2.957 billion).
Before 2021, SVOLT only finished a seed round, a strategic financing round, and an angel round.
Several media sources revealed in January this year that SVOLT had been granted for pre-listing tutoring. The company last year disclosed it intended to file for IPO in 2022.
Gasgoo not only offers timely news and profound insight about China auto industry, but also help with business connection and expansion for suppliers and purchasers via multiple channels and methods. Buyer service: buyer-support@gasgoo.com Seller Service: seller-support@gasgoo.com
All Rights Reserved. Do not reproduce, copy and use the editorial content without permission. Contact us: autonews@gasgoo.com.